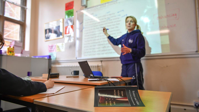 Artificial intelligence (AI) could be used to mark the work of trainee teachers who are trying to identify pupils with potential learning difficulties, a study suggests.
Researchers said it could be an "effective substitute" when personal feedback is not readily available.
In a trial, 178 German trainee teachers were asked to assess six fictionalised pupils to decide whether they had learning difficulties such as dyslexia or Attention Deficit Hyperactivity Disorder (ADHD), and to explain their reasoning.
Image: A teacher writes on a whiteboard to explain William Shakespeare's Romeo and Juliet during an English lesson. Now AI could help trainee teachers identify struggling students, say researchers (Ben Birchall/PA)