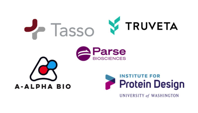 The finalists for Health Innovation of the Year at the GeekWire Awards showcase the strength of science and discovery in the Pacific Northwest. Some have links to the region's innovation powerhouse at the University of Washington, and several highlight the growing power of computational approaches to address health problems.
The five finalists are: A-Alpha Bio, Parse Biosciences, Tasso, Truveta, and the University of Washington's Institute for Protein Design.
Fred Hutch spinout Adaptive Biotechnologies, which developed a first-of-its kind diagnostic test for COVID-19, took home the prize last year.