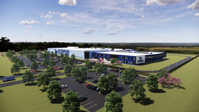 KANSAS CITY, Mo. — Scorpion Biological Services, a subsidiary of Heat Biologies Inc., broke ground on a new 500,000 square foot facility in Manhattan Monday, Gov. Laura Kelly's Office announced.
The facility will work to support development of vaccines that "enable a response to global biological threats," and other health care related products.
"The combination of a world-class public research university, innovative private sector partners and critical national security led Scorpion to choose Manhattan for its new facility," the release said.
Scorpion will join a soon-coming national bio-defense laboratory that is also being constructed in Manhattan and Kansas State University.
Image: https://www-kshb-com.cdn.ampproject.org