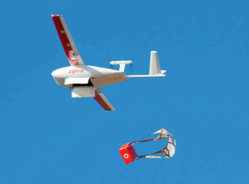 TOKYO (AP) — Zipline, an American company that specializes in using autonomously flying drones to deliver medical supplies, has taken off in Japan.
They're flying, starting Thursday, across the tiny Goto Islands, off the western coast of Kyushu, in southwestern Japan, delivering to pharmacies and hospitals.
Other parts of Japan may follow, including urban areas, although the biggest needs tend to be in isolated rural areas.
Image:  https://www.seattlepi.com