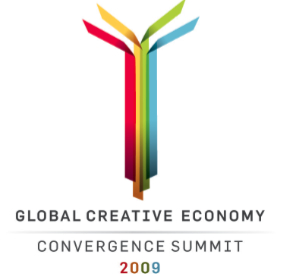 Contact: Rebecca Morley
(215) 568-2525
This email address is being protected from spambots. You need JavaScript enabled to view it.
New Topics, Innovative Format and More Speakers Highlight 2nd Global Creative Economy Convergence Summit Set For October 5-6
Hosted by Innovation Philadelphia, Conference to Feature Elizabeth Gilbert, Peter Shankman, Jane McGonigal and Randall Kempner as Keynote Speakers
July 28, 2009 (Philadelphia, PA) – Calling all creative minds. Innovation Philadelphia will host its second Global Creative Economy Convergence Summit (www.GCECS2009.com) at the Pennsylvania Convention Center from October 5-6, 2009. Following the success of its inaugural conference in 2006, Innovation Philadelphia invites entrepreneurs, business leaders, and creative industry professionals to join this two-day Summit to network, exchange ideas, and share information on emerging technology and initiatives that drive a successful creative economy.
The first Summit, held in 2006, focused on defining "creative economy" and on the creative industries it includes in both the non-profit and for-profit sectors. This year's Summit will explore new topics with an emphasis on how to develop a creative economy -- from physical space, to funding, access to talent, emerging technologies, infrastructure and the policies necessary to create this ecology.
The Summit will have results-driven discussions, presentations, interactive workshops and panels within the following five tracks: Creative Economy 201, Creative Entrepreneurship, Creative 21st Century Workforce, Creative Sustainability and Creative Technologies. A wealth of topics within these five focus areas will be covered throughout the two-day Summit from "How to Create a Culture of Innovation," to "Leveraging Emerging Web Technologies," to "Creativity Around the Globe" and "Urban Farming," among many others. Experts in various creative industries from across the country will participate in the Summit to lead the panels and workshops.
"This Summit is an opportunity for us to showcase Philadelphia as a global hub for creative enterprises, services and talent, but more importantly provides a chance to bring together some of the world's most creative minds to share invaluable content and tools to help creative industry professionals achieve success," said Kelly Lee, President & CEO of Innovation Philadelphia.
In addition to its new focus areas, the Summit has also adopted an innovative approach to the conference format. The new format will include "unconference sessions," which are free and open to the public, and are designed to be unstructured to allow for creative sharing; Pecha Kucha sessions which are fast-paced, high-energy, concise presentations that are 6 minutes and 40 seconds long, allowing for more people to showcase their work; as well as "meet-ups" in which Summit attendees will get together at casual locations throughout the city to discuss a variety of creative topics. Finally, by incorporating the latest in social and mobile media platforms through its twitter site (twitter.com/GCECS09) and its new blog (www.GCECS2009.com), Innovation Philadelphia will provide opportunities for all participants to contribute and provide feedback to help drive the direction of Summit content.
Finally, four keynote speakers will headline the Summit including Elizabeth Gilbert, author of the wildly popular Eat, Pray, Love; Peter Shankman, founder of Help A Reporter Out (HARO) and CEO of The Geek Factory; Jane McGonigle, world-renowned game designer and Director of Game Research and Development at the Institute for the Future; and Randall Kempner, Executive Director of the Aspen Network of Development Entrepreneurs (ANDE).
"We are very excited to have such high-caliber keynote speakers for the Global Creative Economy Convergence Summit. The diversity of expertise is really exciting. These speakers represent the cutting edge of innovation in interactive media, the creative process, and social entrepreneurship," said Lee.
Elizabeth Gilbert will speak on the topic of nurturing creativity. Reflecting on the incredible success of Eat, Pray, Love, she will explore the challenge of standing at the pinnacle of one's success and asking, "Where do I go from here?" In addition to Eat, Pray, Love, Elizabeth Gilbert is the author of three other books and has been published in the New York Times Magazine, Spin, GQ, and Harper's Bazaar.
Peter Shankman is known for his radically new ways of thinking about Social Media, PR, marketing, advertising, creativity, and customer service. He founded Help A Reporter Out, (HARO) which offers journalists more than 100,000 sources around the world looking to be quoted in the media. He is also founder and CEO of The Geek Factory, which has consulted for clients ranging from American Express to Disney, New Frontier Media to the Department of Defense.
Jane McGonigal, Director of Game Research and Development at the Institute of the Future, leads the field of game design for future forecasting and problem solving. One of Fast Company's 100 most creative people for 2009, Jane McGonigal discusses how games optimize human ability and shows how to harness the power of collective intelligence to solve real-world problems. Her projects include collaborative crowd-sourcing platforms, Superstruct and Signtific, as well as designing marketing game platforms for Microsoft and Halo 2, McDonalds' and the 2008 Olympics.
Randall Kempner is the Executive Director of the Aspen Network of Development Entrepreneurs (ANDE), a new initiative from the world-renowned Aspen Institute. ANDE seeks to dramatically increase the amount and effectiveness of capital and technical/business assistance for entrepreneurs in developing countries. ANDE's founding funders and members include The Bill and Melinda Gates Foundation, the Center for Creative Leadership, Google.org, Omidyar Network, The Rockefeller Foundation, The Skoll Foundation, and McKinsey & Company. Randall Kempner will present "The Global Promise of Entrepreneurship," highlighting the ability of entrepreneurs to find opportunities in the face of challenges and exploring ways to leverage the power of entrepreneurship throughout the globe.
Innovation Philadelphia will host the 2009 Global Creative Economy Convergence Summit at the Pennsylvania Convention Center, located in the heart of Philadelphia at 1101 Arch Street, Philadelphia, PA 19107. Accommodations are available at the Summit's official hotel, the Loews Philadelphia Hotel, conveniently located at 1200 Market Street, Philadelphia, PA 19107. Registration for the two-day Summit is $225. For more information about the Summit or to register online, please visit the Global Creative Economy Convergence Summit website.
About Innovation Philadelphia Innovation Philadelphia is committed to supporting technology-driven economic growth in the Philadelphia region through growing the region's for-profit creative industries, attracting and retaining young professionals vital to economic growth and fostering entrepreneurism and new ideas. For more information about Innovation Philadelphia and its initiatives, please visit www.innovationphiladelphia.com.