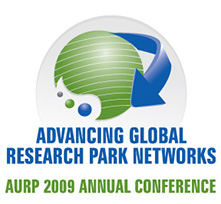 General conference information can be found HERE.
The meeting will be hosted by the University of Victoria's Vancouver Island Technology Park and will focus on Advancing Global Research Park Networks. Topics to be discussed during the conference include the basics of building, filling and marketing research parks. Discussions will also focus on sustainability options and models for future growth.
The AURP 2009 Annual Conference will present British Columbian technology and research parks the opportunity to meet and network with thought-leaders from around the world. Delegates from research parks, governments, universities and industry from around the world will address current issues and examine models for continued growth and sustainability.
To make your reservation at the Westin Bayshore, call (800) WESTIN-1 (or 800-937-8461) and identify yourself with the AURP 2009 Annual Conference to receive the group rate. You may also email your reservation requests to: This email address is being protected from spambots. You need JavaScript enabled to view it..
The AURP room block is on a space available basis and expires Friday, September 4, 2009.