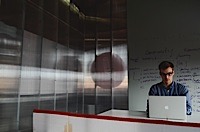 New York City likes to think of itself as the center of the universe for everything. That's almost true when it comes to science and technology education and research; the city's reputation is much overstated when it comes to its effort to translate all of that activity into a community of successful businesses based on biotech and other science and technology fields.
The city's $1.3 billion in NIH-funded research places it second to the Boston region, a respectable showing, as is its concentration of research universities focused on science and engineering. Also respectable is Columbia University's fifth-place standing among 149 universities in the number of startups launched in FY 2009, according to the Association of University Technology Managers' (AUTM's) U.S. Licensing Activity Survey Summary.
Columbia's 13 startups account for most of the 20 generated by NYC schools on AUTM's list: New York University had five; Albert Einstein College of Medicine, Yeshiva University, had two. By comparison, the University of California (UC) alone had 47, followed by the University of Texas system (22), the University of Utah (19), and MIT and CalTech (18 each).
To read the full, original article click on this link:
Author: Alex Philippidis