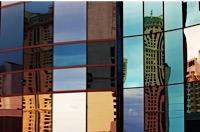 Enrique Allen had an epiphany while meditating one morning about how to bring design literacy to Silicon Valley. Instead of spending so much of his energy mentoring and consulting with startups about how to bring iterative creative thinking and a respect for user experience to their company culture, why not do the inverse? "I realized I should be helping designers become more startup-ey," Allen tells Co.Design. "Those are the people, who, if they become leaders in a company, will model design behavior from its inception, right in the company's DNA." So he started The Designer Fund to give entrepreneurial designers an on-ramp into the Silicon Valley world of angel investor networks, demo days, and funding rounds. "It's about helping to give designers a seat at the startup table that engineers and MBAs already have," Allen says. The intended result: Smarter companies, better products, happier users -- and an improved world.
To read the full, original article click on this link: A New VC Model That Turns Designers, Not Techies, Into Startup CEOs | Co.Design
Author:John Pavlus
Receive our DAILY Free Updates
Thursday, 07 April 2016 00:00
Monday, 04 April 2016 00:00
Friday, 08 April 2016 00:00
Friday, 22 April 2016 00:00
Wednesday, 06 April 2016 00:00
Read more...