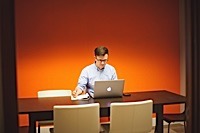 Chile wants to become the innovation and entrepreneurship hub of Latin America and they're certainly moving forward to make this happen.
In April, 110 startups were chosen and given one-year visas to Chile. The goal? Start an innovative business, with a global mindset, that will also help Chile.
What better way to help entrepreneurs hone in their creative juices? An exotic adventure coupled with creativity could just be innovation heaven. At least this is what Chile hopes for anyway.
To read the full, original article click on this link: Need Funding For A Startup With Global Appeal? Start Up In Chile - World With A View - - Forbes
Author:Cheryl Isaac
Receive our DAILY Free Updates
Saturday, 02 May 2015 00:00
Tuesday, 28 April 2015 00:00
Tuesday, 05 May 2015 00:00
Monday, 04 May 2015 00:00
Tuesday, 05 May 2015 00:00
Read more...