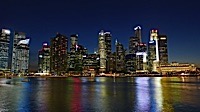 China's focus on science and technology is relentless, and it's occurring at all levels of its society. Its labor pool is becoming increasingly sophisticated, its leadership is focused on innovation, and the country is adopting policies designed to pressure U.S. firms to transfer their technology.
The trend is causing increasing worry in Washington, but there are five reasons why China may yet succeed in its goal to achieve world dominance in technology.
1. China's leadership understands engineering
In China, eight of the nine members of the Standing Committee of the Political Bureau, including the Chinese president, Hu Jintao, have engineering degrees; one has a degree in geology.
To read the full, original article click on this link: Five reasons why China will rule tech - BusinessWeek

Author: Patrick Thibodeau