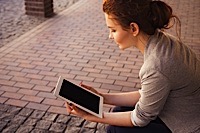 ATLANTA--(BUSINESS WIRE)--Georgia Bio, the Georgia Research Alliance, the State of Georgia, the Metro Atlanta Chamber and the Innovation Crescent business community have formed a partnership to create the Georgia Bioscience Commercialization Center (GBCC), which will act as a start-up catalyst and resource center for bioscience entrepreneurs in Georgia.

Seed funding for the GBCC was provided by Georgia Bio (GaBio) and the Georgia Research Alliance (GRA). The GBCC will be headquartered in the GaBio offices at 1180 Peachtree Street NE, Suite 4150, Atlanta, Ga, 30308.
Laurence Downey, M.D., former President and CEO of Solvay Pharmaceuticals, and Robert Derricotte, Medical Marketing Insights LLC, led development of the GBCC and will serve as the primary contacts for the commercialization center.
Key elements of the center's operations will include a faculty of experienced bioscience executives who will offer guidance to start-up firms, free-of-charge, and a website (www.GeorgiaBCC.com) with useful "how-to" information, plus links to service providers, event notices, technology transfer opportunities and other resources.
In addition to GaBio and GRA, other GBCC partners are the Georgia Department of Economic Development, Metro Atlanta Chamber and other members of the Innovation Crescent Regional Partnership, which includes the Athens-Clarke County Economic Development Foundation; Atlanta Development Authority; Barrow County Chamber of Commerce; Cobb County Office of Economic Development; DeKalb Private Hospital Authority; Greater North Fulton Chamber of Commerce; Gwinnett County Chamber of Commerce; and the Oconee County Development Authority.
"The GBCC will serve as a one-stop shop for life sciences entrepreneurs in Georgia seeking the information and contacts they need to be successful," Dr. Downey said. "This public-private partnership will serve as an economic development engine, driving 21st century advanced technology job growth in Georgia, by providing the resources to retain existing bioscience start-ups and attract new companies to our state."
Dr. Downey, a member of the GaBio Board of Directors, added, "We have assembled a faculty of 25 bioscience CEOs and senior executives with many years of combined experience in running successful pharmaceutical, biotechnology and medical device companies. Entrepreneurs in Georgia will have access to this wealth of expertise to help solve the many challenges they face in starting and sustaining a bioscience company."
"The commercialization center will serve an immediate need in our life sciences community by providing entrepreneurs with the unique strategic information essential for their success," said GaBio President Charles Craig.
"As our organizations work toward building a critical mass of life sciences companies in Georgia, the GBCC will be a valuable tool for the start-ups that are launched from the laboratories at our research universities," said Mike Cassidy, President and CEO of the Georgia Research Alliance. "These companies are eager to learn from the successes – and failures – of experienced entrepreneurs who understand their industry."
About Georgia Bio
Georgia Bio (www.gabio.org) is a private, non-profit association representing pharmaceutical, biotech and medical device companies, universities, research institutes, medical centers, government groups and other business organizations involved in the development of products that improve the health and quality of life of people, animals and the environment.
About Georgia Research Alliance
A model public-private partnership between Georgia universities, business and state government, the Georgia Research Alliance helps build Georgia's technology-rich economy in three major ways: through attracting Eminent Scholars to Georgia's research universities; through improving laboratories and equipment at these research universities; and through converting research into products, services and jobs that drive the economy. To learn more about GRA, visit www.gra.org.
To read the full, original article click on this link: Bioscience Commercialization Center Will Assist Entrepreneurs, Driving Growth of Start-ups and High-paying Jobs in Georgia | Business Wire