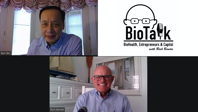 Montgomery County Economic Development Corporation (MCEDC)  President and CEO  Benjamin Wu Chats with Rich Bendis on BioTalk.
Listen now Apple https://apple.co/2SJB2a5, Google https://bit.ly/2SMLbmd, Spotify https://spoti.fi/34SWcrI, https://bit.ly/2SMde5j, and YouTube Audio https://bit.ly/2GSHXeu
As the President and Chief Executive Officer of MCEDC, Ben Wu leads the public-private economic development of Maryland's largest jurisdiction which comprises 25% of the state's economy with a GDP greater than 13 states. A Montgomery County native, Ben is an accomplished executive with over three decades of professional experience leading operations at the highest levels of our nation and state.