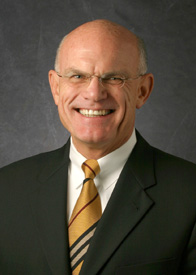 Mr. Bendis is a distinguished and successful entrepreneur, corporate executive, venture capitalist, investment banker, innovation based economic development (IBED) leader, international speaker and consultant in innovation and economy building.
Mr. Bendis currently serves as the founding President and CEO of BioHealth Innovation Inc., a Central Maryland innovation intermediary focused on accelerating the growth of commercially relevant research from universities , Federal Labs and entrepreneurs focused in the biohealth industry.
He is also Founder, President and CEO of Innovation America (IA), a Global Innovation Intermediary focused on accelerating the growth of the entrepreneurial innovation economy in America.
Global advocate for accelerating awareness of Innovation, Entrepreneurship and Early Stage Capital in stimulating Innovation Based Economic Development (IBED);
International speaker on Building Innovation and Entrepreneurial Ecosystems (Voted a 2012 Top 5 Innovation Speaker by Speakers Platform)
International Consulting on IBED
Editor and Publisher of innovationDAILY and WEEKLY, an e-newsletter/Blog reporting on Global trends on innovation with over 1,000,000 unique visitors in over 185 Countries (Voted The 4th Best Innovation Blogger in The World by Blogging Innovation)
Early Stage Capital Fund of Funds Consulting and Formation and currently serves as a VC Investment Manager with NEST-TN a Nashville, Tennessee VC firm and is also an Angel Investor.
Mr. Bendis has been appointed to several national innovation related organizations and committees include the White House U.S. Innovation Partnership (USIP) Advisory Task Force and Co-Chair of the Small Business Innovation Research Committee), the National Governor's Association (NGA) Science and Technology Council of the State's Executive Committee, the State Federal Technology Task Force, the National Academies (NAS) committee on "Competing in the 21st Century: Best Practices in State and Regional Innovation Initiatives"; National Academies National Research Review of "an Assessment of the SBIR Program; National Institute of Standards and Technology Manufacturing Extension Partnership (MEP) National Advisory Board; U.S. Small Business Administration's Angel Capital Electronic Network (ACENET) Board of Directors; American Academy for the Advancement of Science (AAAS) Nominating Committee and the American Association Research Competitiveness Program Advisory Committee; Council on Competitiveness – Clusters of Innovation Committee.
Mr. Bendis is currently or has previously served as a board member and representative to the following organizations: National Association of State Venture Funds (NASVF) Founding Board member and Vice Chairman of the Executive Committee; State Science and Technology Institute (SSTI) Founding Board member: Eisenhower Fellowships Nominating Committee, the Ernst and Young Entrepreneurial Institute Member and as a past EOY winner as well as a national/regional Judge, Advisory Board member of the Technopolicy Network.
Mr. Bendis has provided global consulting services to over 18 countries and 24 states, several cities and regions, along with international organizations including the United Nations, NATO, UK Trade and Industry, European Commission, French Embassy, the German Marshall Fund, The Canadian Consulate, COTEC, TechnoPolicy, Science Works, METI, AKEA, the International Science Parks and Innovation Expert Group and other global entities. Mr. Bendis is an International speaker, focusing on Innovation , Entrepreneurship, and Developing and implementing Innovation Based Economic Development Strategies.
Mr. Bendis founded the Bendis Investment Group LLC, (BIG), a financial intermediary and consulting firm, along with managing his own angel investment portfolio. Mr. Bendis also founded and served as the founding President and CEO of Innovation Philadelphia (IP), a three state regional public/private partnership dedicated to growing the wealth and workforce of the Greater Philadelphia Region. IP managed a portfolio of programs in four distinct areas: Direct Equity Investment/Financing Assistance; Technology Commercialization; Global/Regional Economic and Workforce Development; and Market Research and Branding. Mr. Bendis currently serves as the Chairman of the innovation Philadelphia, Board of Directors.
Previously, Mr. Bendis successfully leveraged a career in the private sector (with Quaker Oats, Polaroid, Texas Instruments, Marion Laboratories and Kimberly Services) and the venture capital industry (RAB Ventures) to lead the Kansas Technology Enterprise Corporation (KTEC). As its president and CEO, he developed KTEC into a globally recognized model for technology-based economic development. Mr. Bendis also successfully built an Inc. 500 healthcare software company, Continental Healthcare Systems, Inc., which he took public on NASDAQ and later sold to an international conglomerate. He was a nominee for the 2005 Ernst and Young National Entrepreneur Supporter of the Year Award (EOY) and was the 1996 recipient of the Regional Ernst and Young Entrepreneur of the Year Award.