innovation DAILY
Here we highlight selected innovation related articles from around the world on a daily basis. These articles related to innovation and funding for innovative companies, and best practices for innovation based economic development.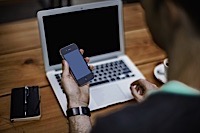 I recently caught up with James Altucher, who is the author of the new book "The Choose Yourself Guide to Wealth". You can learn more about James and his ideas in his book by subscribing to "The James Altucher Report", a daily and monthly newsletter. James is also the author of multiple bestsellers including "The Power of No" and "Choose Yourself". His blog, The Altucher Confidential, has attracted more than 15 million readers since its launch in 2010. He has started and run more than 20 companies, and sold several of those businesses for large exits. He has also run venture capital funds, hedge funds, angel funds, and currently sits on the boards of several companies. In addition, James hosts the extremely popular weekly podcast series "The James Altucher Show", where he's interviewed everyone from Tim Ferriss to Adam Carolla about a variety of topics, ranging from health to entrepreneurship.
Receive our DAILY Free Updates
Friday, 06 March 2015 01:00
Monday, 09 March 2015 00:00
Saturday, 07 March 2015 01:00
Saturday, 07 March 2015 01:00
Friday, 13 March 2015 00:00
Read more...