innovation DAILY
Here we highlight selected innovation related articles from around the world on a daily basis. These articles related to innovation and funding for innovative companies, and best practices for innovation based economic development.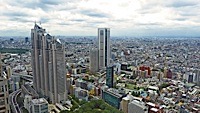 We all relish the optimistic curiosity and energy of young people testing ideas and exploring better ways of doing things. However, successful new ventures are invariably formed by teams that bring together not just disruptive thinkers, but experienced people with unique knowledge of their industry. In honor of my mother having turned 80 this year, I look today at the wise "third age" or "encore" entrepreneurs and how they are shifting the paradigm of "retirement" in our society.
Image: http://www.kauffman.org
Receive our DAILY Free Updates
Friday, 26 September 2014 00:00
Thursday, 09 October 2014 00:00
Thursday, 09 October 2014 00:00
Saturday, 04 October 2014 00:00
Monday, 13 October 2014 00:00
Read more...