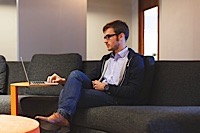 The Idea:

Build a startup incubator that runs online. This incubator could leverage expert mentors all over the world while lowering the barrier of entry for founders and entrepreneurs (who would no longer need to move). Your talent pool wouldn't be constrained geographically. Theoretically this gives you a huge talent advantage.
What makes an incubator great?

Nobody runs an incubator better than Paul Graham. Paul launched YCombinator in 2005, and many (myself included) would consider YC to be the best incubator worldwide. They aren't perfect, but they get a lot of things right. After interviewing several YC alum I can confidently say YC's biggest strength is their people network. Anyone can offer money to a startup but the connections that Paul Graham and company provide are simply unrivaled.
To read the full, original article click on this link: Could an Online Startup Incubator Succeed? | The Startup Foundry
Author: Paul Hontz
Receive our DAILY Free Updates
Sunday, 16 February 2014 00:00
Sunday, 16 February 2014 00:00
Thursday, 20 February 2014 00:00
Tuesday, 11 February 2014 00:00
Tuesday, 18 February 2014 00:00
Read more...