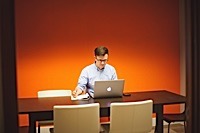 Seed and early-stage rounds are changing for the better. Today's rounds are smaller in nature than they have been in the past, and that is good for founders and investors.
The size of a seed round typically ranges from $250,000 to $1 million and each one can have anywhere from two to three seed-type firms (or MicroVCs), and between three and ten angel investors. These rounds enable "strategics" to be brought into the early development of the company (which is crucial at this stage of the startup).
Cheaper start-up costs have allowed for smaller early-stage investments. In the 1990s, it might have taken $5 million to start a company. Today, that same company could be launched for $500,000 or less. This has created a new type of investment vehicle that allows smaller funds and angels to invest in and help grow businesses, potentially leading to a better opportunity for larger-scale VCs, or turning these startups into profitable businesses that don't need follow-on capital. Either way, it's a good thing.
To read the full, original article click on this link: Smaller early-stage bets are better for founders & investors | VentureBeat