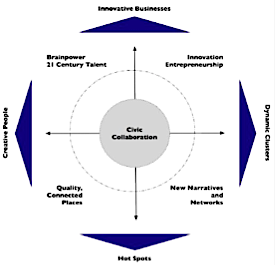 A group of us at Purdue, Penn State and The University of Akron are working on new frameworks for open innovation in regional economies. We are developing a network of practitioners at colleges and universities across the country who are positioned to accelerate innovation in regional economies.

Here's a framework that can help regional leaders understand the interplay of investments required to build an innovation economy. With this framework, regional leaders can map their current strategy, as well as evaluate new strategies. From another perspective, this framework specifies the different dimensions of what some are beginning to call an "entrepreneurial ecosystem".

In today's quickly shifting economy of networks, coherence is more important than vision. That's why these visual tools are important. They provide the strategy maps we need to organize both thinking and action in loosely joined networks.
To read the full, original article click on this link: Open innovation in regional economies - Ed Morrison's Garage

Receive our DAILY Free Updates
Tuesday, 09 June 2015 00:00
Tuesday, 16 June 2015 00:00
Thursday, 18 June 2015 00:00
Monday, 15 June 2015 00:00
Wednesday, 10 June 2015 00:00
Read more...