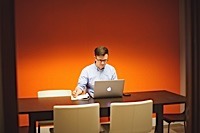 Most people think today's most urgent challenge is to create millions of new jobs. But we face more threatening challenges: global warming, aging populations, pandemic disease, bankrupt governments, terrorism, and nuclear proliferation to name just a few. During this decade, we must face up to a slew of survival questions. For example: How can we

Expand without exhausting resources or intensifying global warming?
Provide enough food and clean water for 10 billion people?
Afford to deliver quality health care to an aging population?
Educate our children to thrive in an increasingly competitive world?
Build an efficient infrastructure that is safe from cyber attack?
At first glance, these seem like social questions – and they are. But look more closely and you'll also see huge business opportunities that will generate new jobs.

To read the full, original article click on this link: INNOVATION + ENTREPRENEURSHIP = JOBS « Dick Stieglitz's Change Blog
Author: dstieglitz
Receive our DAILY Free Updates
Thursday, 09 April 2015 00:00
Wednesday, 01 April 2015 00:00
Friday, 03 April 2015 00:00
Friday, 10 April 2015 00:00
Monday, 13 April 2015 00:00
Read more...