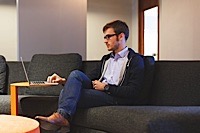 I just got back from my trip last week to the Boston and surrounding areas. Of course the Celtics Lakers were the big story, but I found myself contrasting the two regions from a tech angle and it's relevance to how business is changing.

Over the past decade Boston has fallen behind while Silicon Valley has been branded as creating the dot com bust. So I was thinking where are the two regions today? Is Boston relevant? Has New York become the new east coast meca for startups and innovation? What about DC? What about Austin? Even Boulder seems to have some movement?

With all the young and older talent in Boston, can they reclaim a spot at the top of the technology regions?

Boston has a ton of potential. I predict Boston will be a sleeper in the upcoming tech boom mostly around cloud and mobile apps. There is just too much talent in the Boston area and it's fueled by the young graduates emerging from the colleges and universities. New York will be a factor, but I see New York as only being a blip in the radar in terms of ongoing leadership and presence. The main reason is that New York has taken advantage of how slow Boston has moved in terms of investing in young companies and being tech savvy.
To read the full, original article click on this link: SiliconANGLE — Blog — Innovation Trends: Silicon Valley Verses Boston and The World - Consumerization of EveryThing Not Just IT

Author: John Furrier