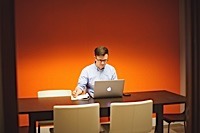 Austin holds a handful of top rankings in innovation, intelligence, friendliness, fitness and environmentalism, but what about in terms of business, real estate, and the economy?

The self-proclaimed "Live Music Capital of the World," Austin boasts over 1700 live music venues and is home to the musical festivals Austin City Limits and South By Southwest (SXSW) as well as the Austin Film Festival. In 2009, SXSW generated $99 million for the city. "Keep Austin Weird," has become the city's unofficial slogan and attempt to maintain this creative economy by supporting "Austinite's" creative flare and local businesses.

Large corporations like Dell and Whole Foods, both headquartered in the metro area, also boost the city's economy. Additionally, Apple, Inc., IBM, Intel, Google and Facebook have operations in Austin. Austin's businesses are supported by fresh minds, cutting edge technology and innovation, which the city's institutes of higher education, most notably the University of Texas at Austin.
To read the full, original article click on this link: Austin, Texas' Impressive Rankings for 2009 – 2010 | Real Estate Buying