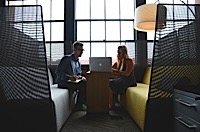 There is no doubt that these are tough economic times. Unemployment is high and credit is tight. Key indicates show that is the worse economy in a generation. Many technology transfer offices have seen potential business partners reduce their innovation portfolios and expenditures. This coupled with a reduction in funding sources, from grants and investors to university sources are blowing the technology transfer research commercialization efforts into the perfect storm.

There are difficulties and challenges, but these times also create opportunities. Here are seven tips to help your technology transfer office succeed in these tough economic times.

1. Maintain a list of problems that are relevant to the research and technologies in the pipeline.

Technology transfer offices typically get involved in research commercialization efforts late in the research and testing process. Get involved earlier in the process and start developing a list of problems of which the research can be applied.