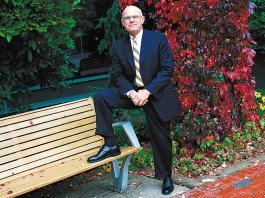 MONCTON - Richard Bendis will tell an audience of entrepreneurs and officials in the knowledge industry today that growing business in a wired community is not just about technology.
The CEO of the Philadelphia-based national private-public intermediary Innovation America is trying to spur a mindset shift towards better using human connectivity to leverage funding and talent to build companies - on top of focusing on market-relevant products.
"The difference I talk about is from technology-based economic development to innovation-based economic development," Bendis said in an interview Monday, ahead of meetings with members of a Moncton-based high-tech incubator nearing its launch.
Bendis will give a morning address today at the Delta Beauséjour hotel to help kick off a two-day summit on intelligent communities. This summit, in part, came to be after Moncton and Fredericton were named to this year's top seven smart cities list by the Intelligent Community Forum, a New York-based think-tank devoted to assessing how broadband can grow jurisdictions.
Interaction between investors, academia, entrepreneurs and government is the way to develop high-tech companies in any community, Bendis said.
"In order to accomplish that, you need to have organizations that have been created to support the growth of innovation within a city or a province," he said.
"That's why they've been working over the last couple of years to potentially create Tech South East in southeastern New Brunswick."
Tech South East - an intermediary in the works since the Moncton Technology Planning Group released a strategy to grow the local technology sector in 2006 - is nailing down the final pieces of its organizational structure, with the plan to soon start up with a bang.
Doug Robertson met Bendis in Helsinki at a technology conference through his work studying models in other jurisdictions.
Robertson said Monday that a recent conference he attended in the Netherlands a European Union speaker at told the audience business intermediaries need to be trilingual.
"They've got to be able to speak business, they've got to be able to speak government, they've got to be able to speak university and research," he said.
Bendis said private-sector experts should be managing funds with government support; intermediaries need to operate on business time and learn to "either succeed quickly or fail quickly," he said.
The executive pitched a plan to U.S. President Barack Obama's transitional committee last December to create a $2-billion national innovation framework, including a seed fund consisting of a fund of funds and a technical assistance grant fund - which would give entrepreneurs access to portfolio companies and fund managers.
Innovation America - which launched officially the same month - could be the organization he suggested be created to oversee the fund, supported partially by a U.S. federal agency like the Department of Commerce or the Small Business Administration.
He said the United States has seen a dearth of early-stage venture capital financing because of a "perfect storm" of challenges that include the recent market meltdown, shortage of state financing and habit by investors to dole out mostly large sums of money - versus more small amounts startups need.
"The average investment in U.S. dollars for a venture capitalist is about $8.3 million per investment," he said, citing Angel Capital Association figures for the United States for early 2009. "Most entrepreneurs or innovators are looking for half a million to $2 million."
REBECCA PENTY
Telegraph-Journal