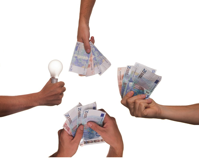 The Warriors are in transition.
Not only did they overhaul the roster this past summer, but the franchise relocated to San Francisco.
We've heard coach Steve Kerr say that Chase Center is a metaphor for the team's approach to the 2019-20 season, in that it's a "reset" for the organization.
Warriors superstar Steph Curry recently supplied his own metaphor.
"I'd compare it to a venture capitalist running different funds," Curry told ESPN's Ramona Shelburne. "You have your first fund, which you build and hopefully have some success. Then you go back and say, 'We're going to build a second fund, invest in some different things this time.' But it's the same people, the same brain power.