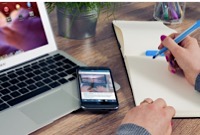 The Rochester of the 1830s got rich off the Erie Canal and flour production. So it was again after the Civil War and through much of the 20th century, with industries such as men's clothing and manufacturers including Eastman Kodak and Bausch + Lomb, and later Xerox, creating fortunes for investors and careers for legions of workers.

The 21st century — marked so far by downsizings at the Big Three and even the dynamiting of unused buildings at Kodak — has been less rosy. Health care and education are growing, and employers such as the University of Rochester and Paychex Inc. are expanding. But the region is barely holding its own as old-line manufacturing and its well-paying jobs decline.

Where do we go from here?

"If this region is going to grow, it's going to be through startup companies," said James Senall, president of High Tech Rochester, a nonprofit economic development organization that runs a pair of business incubators. "Our community has got to get behind forming and growing new companies."
To read the full, original article click on this link: Startups hold key to economic growth in Rochester | democratandchronicle.com | Democrat and Chronicle

Author: This email address is being protected from spambots. You need JavaScript enabled to view it.