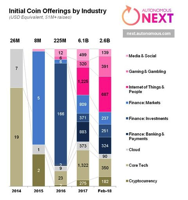 Cryptocurrency fundraising is off to a record-breaking start this year, according to new data from the crypto watcher Autonomous Next.
But the rest of 2018 could see the market for initial coin offerings fizzle out, according to numerous cryptocurrency experts who spoke with Business Insider on Tuesday at "Battle of the Cryptos," an industry conference in New York.
Autonomous NEXT Autonomous Next found that $2.6 billion was raised via ICOs in January and February.
Image: http://www.businessinsider.com