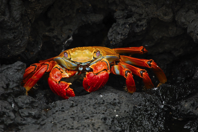 Every year on Australia's Christmas Island, which lies just south of Indonesia, millions of red crabs swarm the island in their annual migration.
About 40 to 50 million crabs make their way from the forest to the coast in around October or November, to breed and release their eggs to sea. 
It's a migration that can last up to 18 days, and crab crossings as well as fences have been erected to ensure the crabs get to shore safely.